Teacher education programmes at the University of Rwanda-College of Education aim at developing knowledge, skills, and attributes of pre-service teachers to prepare them to teach effectively in the school systems. It is for this reason that UR-CE has introduced a new approach dubbed "Practicum". This is a school-based experience that teacher trainees have in the classroom to put into practice theory before they take on the full range of responsibilities required for student teaching. Last week, about 2700 student-teachers of year two completed their one-week practicum conducted in different secondary schools and Teachers' Training Colleges (TTC) across the country. They are excited for having apprenticed and socialized into the teaching profession.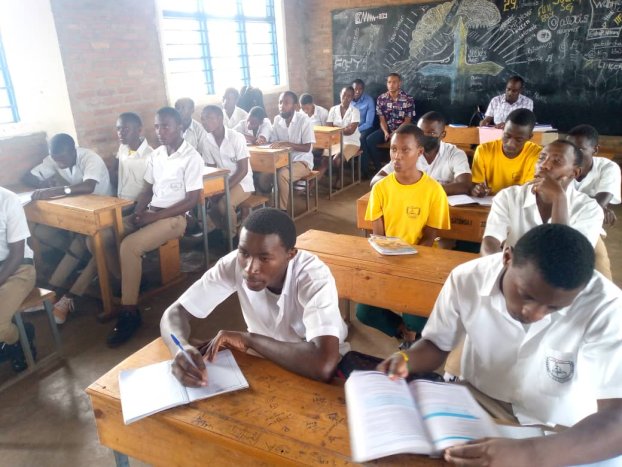 UR-CE Student-teachers conducting Practicum at GS GATENGA I sitting behind the class observing a lesson
Practicum is set to provide pre-service teachers to grow and develop as future members of the teaching profession, to practice their skills and reflect is meant for them to be a teacher. The initiative of Practicum is supported by the Master Card Foundation-funded Leaders in Teaching Initiative (LIT) program. LIT aims at building the capacity of UR-CE academic staff and pre-service teachers. The support offered for Practicum is line with its objective number two that is "To provide practicum opportunities for service-teachers to allow them put theory into practice and strengthen the mentorship they receive from UR-CE academic staff."
Practicum for 2nd year students was addressed to address the following challenges encountered by student-teachers in the past :
 Lack of school life experience, because it was realized that the School Attachment conducted by final year students is not sufficient enough to expose to and familiarize student-teachers with enough school life experience ;
 Emphasis on theory rather than practice : the module of Theories and Practices of Learning and Teaching as well as the module of Subject Specific Teaching Methods are not organized in such a way that student-teachers get time to apply theories and principles of teaching and learning in real life situation ;
 Limited time for microteaching sessions, : given the time allocated to the modules of Subjects Specific Teaching Methods and challenges faced in implementing them, all student-teachers do not get the opportunity to plan and deliver a micro lesson ;
 Lack of preparedness of student-teachers to conduct school attachment : due to the lack of exposure to real life experience, student- teachers go on school attachment unprepared and some of them fail to complete it.
During practicum period, student-teachers are expected to do the following :
 Job-shadow an experienced teacher through observation
 Plan, deliver and assess at least one lesson in each subject of specialization, and
 Familiarize with the school life experiences through engagement in different school activities.
Most of student- teachers who conducted practicum say that it has given them experience in teaching. They say that they got opportunities of practicing planning and delivering lesson content, assessing students, engaging students in the learning process, managing students' behaviours and reflecting on their teaching experience.
Damascene Bebeto is a student-teacher in English-Kinyarwanda with Education. He conducted his practicum at GS Gatenga I, his former secondary school. When we interviewed him over what he gained from practicum, he said that it helped him know how to fill pedagogical documents, how a teacher manages the classroom, . "Practicum familiarized me with students especially, in the beginning I felt little fear, but my mentor who is an experienced teacher taught me how to behave in front of students. He also indicated me how to prepare a deliver a lesson, and to assess students. Another important thing I learnt is how to manage the time allocated to the lesson and other activities at school, etc."
Fortunee Ishimwe, a student-teacher in Biology-Chemistry with Education noted, "I did my practicum at GS Kimisagara I. I learnt about pedagogical documents and how to fill them, lesson preparation, teaching methodology, classroom management especially learners' behaviours, the language to use when you are interacting with the students, etc..."
Bertaran Ishimwe is a student-teacher in Mathematics-Physics with Education. He carried out his practicum at Kagarama Secondary School. According to him, practicum made him change his mindset about his future career. He has now decided to embrace the teaching profession after my graduation contrary to the past.
"Sincerely speaking, wonderful experiences drawn from practicum have changed my mindset. I was planning to join the army after my graduation, but now I have made a final decision. I realized that teaching is a good profession" he said. "I was given the opportunity to teach some lessons. It was joyful to interact with students. It was my first time in my life. They wanted me to continue teaching them. All these wonders have led me to change my plan. Now I shall embrace the teaching. It is a noble profession, "he added.
Teacher education programmes are designed to produce effective classroom practionners who are well prepared to address the various challenges in classroom setting. It is therefore believed that Practicum will help produce effective teachers.
Story by
NTIRANDEKURA Schadrac
Public Relations & Community Engagement Officer
University of Rwanda-College of Education