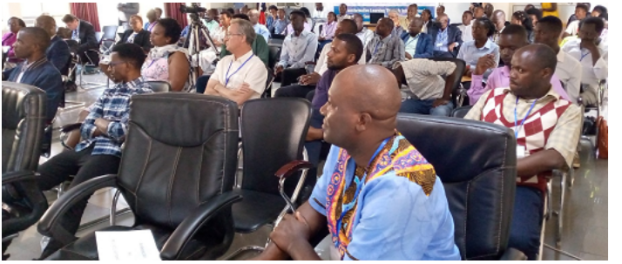 Experts in the Education Sector have called for collaboration among universities across the globe to ensure that they have all it takes for students to acquire necessary skills needed in the 21st century.
They were speaking during a five-day conference held in Kigali that brought together different experts in Higher learning education, scientists, researchers, industry specialists, university students among others.
Organized under the theme "The Future of Universities" the meeting was organized as part of the joint project dubbed "Transformative Learning Through International Education for Sustainable Growth (TELLS)"
Important topics covered during the conference include life-long learning, new certificate structures, digital inclusion, embracing diversity, gender equality, 21st-century "soft skills".
Others include enhanced capacity by using artificial intelligence, new pedagogical models, virtual student, and staff exchange, and policies for the digital age among others.
Dr Florien Nsanganwimana, the acting Principal of the University of Rwanda College of Education stressed the need for universities to transform and adapt to the new conditions and impart graduates with skills needed in the 21st century.
He said that the conference came at the right moment as the whole world has been shaken by the outbreak of COVID-19 pandemic where they were ordered to close to curb the spread of the pandemic and were forced to seek a solution to continue with studies.
"Universities including ours used to operate in a traditional mode by chalks and board, for instance we used to have teaching and learning sessions physically but due to that COVID-19, worldwide Universities and schools were obliged to close schools as a mitigation measure to curb the spread of the pandemic," he said.
He said that initially the beginning was really difficult having children who were motivated to learn but who abruptly stopped learning.
" It was a challenge for universities but also for parents to keep the students at home and how to support them. It was a burden for the country and families to shape the future of children," he added.
He noted that the universities have learned a lesson from the pandemic and needed to work on it to address the current and future challenges.
"As you know the economies are relying on knowledge, transfer of skills, imparting our training with some competences and this is happening in schools and at university when we want to have advanced knowledge and advanced competencies," he said.
"For me, this Transformation Education Project, which adds on the life-long learning for sustainable development is a perfect fit to the current context, because despite this pandemic, we have to continue supporting our students at different levels, but the question is how to do it in this context," he noted.
"We know that today we are not obliged to learn when we meet physically, they are open educational resources and anyone who has acquired basic reading skills can read and understand, we have to have digital skills, computer literacy, internet literacy so that we can browse and search and reach what we want so that we can serve better," added the don.
He said the conference had a particular focus which is about the future for universities and should inspire other universities.
"We should ensure that we positively contaminate other universities coming from within ourselves," he added.
"Your attitude not your aptitude will determine your attitude, we are strong together and how far we can go will really depend on our behavior, how we relate with others and how we can join others in combined efforts to tackle challenges that we are facing today," he noted.
"Universities are indeed called to beyond the mere training and ensure that their graduates are equipped with 21st century skills mainly include ICT literacy, reading numeracy, lifelong learning, communication skills, critical thinking and we have to be sensitive to the change and of course some important values including inclusion in education," he added.
Prof. Frank Reichert from a lecturer from the Agder University in Norway who is also Tells Overall Project Leader said that universities needed to embrace technology and become competent enough to address global issues.
He talked about the need for virtual reality, Artificial Intelligence, internet of things, 3D animations among others at universities.
"We are here together with University of Rwanda and other universities to find out how we can offer the best possible education in the future, it is a big issue because a lot of technology is involved, maybe you may have heard about virtual reality, Artificial Intelligence, internet of things and 3D animations," he said
"One of the challenges we have is how to work together to use the latest technology for the best of our students so that we can actually reach out to the students we have not reached out before, today you can be a student from the University of Altar also you are a student of University of Rwanda, so you are a virtual student, so you don't have to be physically in our lecturers," Frank added.
Story by
Jean d'Amour Mbonyinshuti
On behalf on University of Rwanda-College of Education