On 29 September 2022, the University of Rwanda-College of Education witnessed the inauguration of a STEM Center at UR Rukara Campus. The Centre will help secondary schools students surrounding the Campus and University students to promote practical learning and support innovation at the University of Rwanda-College of Education.
The Center was established by STEMpower USA through the Embassy of the State of Israel to Rwanda. It is expected to boost students' ability to integrate and apply knowledge and skills across disciplines to solve authentic problems of the society.
The STEM centre will be used for training STEM students from
secondary schools
The colorful event was presided over by His Excellency Dr.Ron Adam, the Ambassador of the State of Israel to Rwanda. The DVC for Strategic Planning and Administration, Dr. Raymond Ndikumana attended the function on behalf of the DVC. Were also present, the Vice Mayor in charge of Social Affairs in Kayonza District, Mr. Jean Damascene Harerimana, the CEO of ICT Chamber, Mr. Alex Ntale, the Representative of STEMpower Rwanda, Mr. Espoir Serukiza, among others.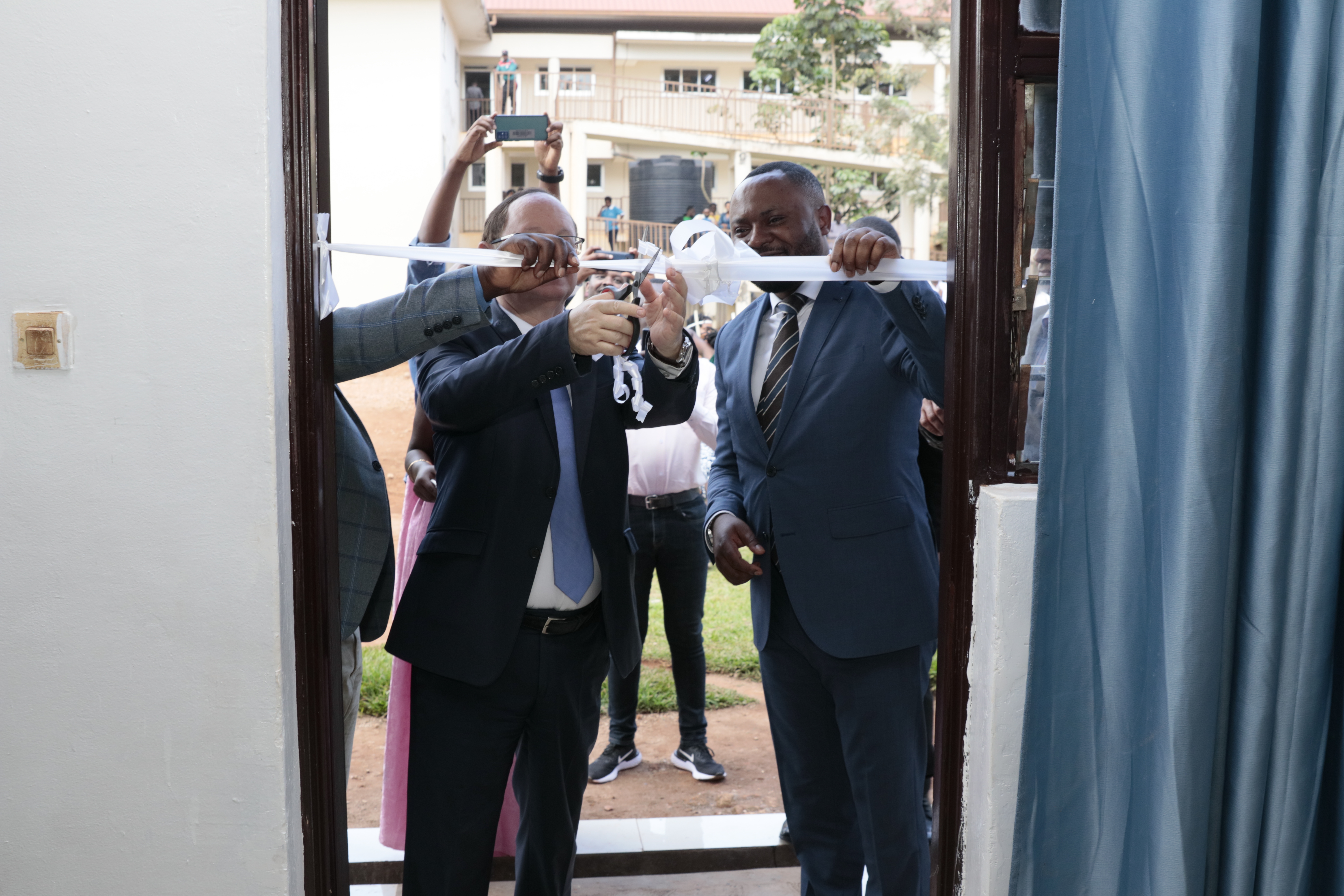 H.E Ron Adam, Ambassador of the State of Israel to Rwanda presided over the inauguration of the STEM centre at UR Rukara Campus
The visiting team made a tour of the center and exchanged with students from secondary schools nearby who were using the labs. These learners demonstrated that this center will yield positive results.
Speaking on the occasion, the DVC commended STEMpower and the Embassy of the State of Israel to Rwanda for the strategic partnership with the University of Rwanda, noting that it is aligned with its vision.
"This partnership responds directly to the strategic direction of the University. It has a vision, but also many initiatives that are geared towards seeing the University of Rwanda as a leading university for socio-economic development of Rwanda, but also being a place where our students are really prepared for the life of leadership, life of service, and coming up with innovative solutions for authentic challenges of the community …", said Dr. Ndikumana.
His Excellency The Ambassador briefed the participants on the idea behind the establishment of STEM centers, emphasizing the need to serve students and the rest of the population.
According to him, the idea to establish STEM centers will boost Rwanda's vision to become a middle-income nation by 2050 as suggested in the National Strategy for Transformation (NST1).
In Rwanda, there are actually four (4) STEM centers, set up at Kibogora Polytechnic, INES Musanze, UR-CST and UR Rukara Campus.
Pause for a group photo
Story by
NTIRANDEKURA Schadrac
PRO, UR-CE