From mid-January 2023, the University of Rwanda-College of Education (UR-CE) in collaboration with the Rwanda Basic Education Board (REB) is conducting, at GS Cyahafi, Nyarugenge District, a second training phase of Mathematics and Science teachers /tutors on Project-Based Learning (PBL) approach. This initiative is under the support of professional development of Mathematics and Science teachers, which is a sub-component 1.2 of the World Bank-funded Rwanda Quality Basic Education for Human Capital Development (RQBEHCD) project. According to the trainees PBL training is an effective solution to challenges faced by Mathematics and Science teachers/tutors in the implementation of the Competence-Based Curriculum (CBC).
This phase two brings together about 122 teachers/tutors from 16 TTCs, 16 Model schools and 30 Mathematics and Science for Sub-Saharan Africa (MS4SSA) pilot schools. These teachers/tutors will be trained on fifteen (15) PBL modules /projects developed for Mathematics and Science Teachers working in Teacher Training Colleges (TTCs), Model schools and Mathematics and Science for Sub-Saharan Africa (MS4SSA) Pilot Schools. It is these modules/projects which were used in the training of STEM teachers and tutors for the first phase.
A portion of Trainees with their facilitator Dr JMV Mujyambere during the review of the soap making process
On February 11th -12th, Chemistry and Biology group worked on Beeswax-based project. The preceding weekend they worked on Soap making project (Saponification). They made liquid soaps and solid soaps.
Dr. Jean Marie Vianney Mujyambere, Chemistry lecturer at UR-CE and PBL training facilitator said, "We selected this Beeswax-based project, because it is linked to Chemistry especially Organic Chemistry. We wanted to show participants that though these teachers/tutors are teaching Organic Chemistry they can link the content and the real world, thus stressing the importance of Chemistry in the real world."
Dr.Jean Marie Vianney Mujyambere, Chemistry UR-CE lecturer and PBL training facilitator
In Beeswax-based project, trainees have produced candles, body lotion, and shoe polish. Dr. Mujyambere highlighted that Beeswax-based project is an application of acquired skills in different Chemistry concepts such as Chemistry and society, chemical reactions and equations, and functional groups of organic compounds.
A group of trainees while processing beeswax to produce Candles, Body Lotion and Shoe Polish
Fabienne Nyirankubongo, Chemistry teacher at GS Mushaka, Rusizi District, said, "This PBL training is very important for me. Previously, I was teaching theory. But when we started learning about PBL approach I realized that it is a very good teaching method. When I returned to my school, I started implementing it. We made liquid soaps and solid soaps. My students were very motivated to make soaps." She added, "This Beeswax-based project matches with Organic Chemistry taught in S2 and S3."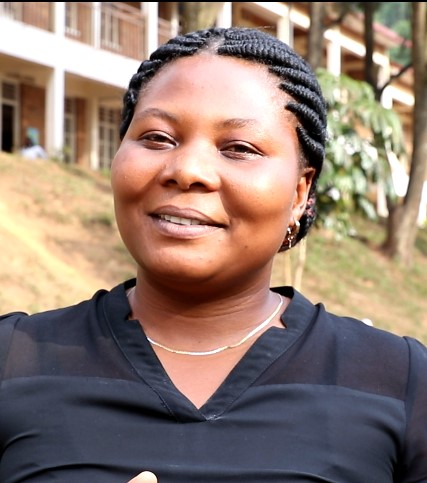 Fabienne Nyirankubongo, Chemistry teacher at GS Mushaka, Rusizi District

Afiz Kalisa, Chemistry teacher at GS Akanzu, Rwamagana District, said, "We relate this Beeswax-based project to our teaching Unit of Organic Chemistry. I teach in S.2 and S3. Both classes have concepts of Organic Chemistry, which we define as the study of hydrocarbons." He added, "With beeswax processing we produce those hydrocarbons. We have seen that after squeezing honeycomb we get a product which contains hydrocarbons, fatty acids, and other components."
He went on to say, "Previously, we used to teach by only saying that Organic Chemistry is all about hydrocarbons, fatty acids etc. But, after getting this knowledge, I am going to change. If we say that hydrocarbons are insoluble, we must show it. We learn better when we learn by doing."
Afiz Kalisa, Chemistry teacher at GS AKanzu, Rwamagana District
To facilitate the training, participants are split into 2 groups : the first group is for those who teach Biology and Chemistry, and the second group is made of those who teach Mathematics and Physics. The first group is supposed to be trained on School Kitchen Garden, Food Processing, Soap making, Beeswax-based projects, etc. The second group deals with 3D Printing, Robotics and their programming, House Electrical Installation, Solar Energy and Lantern Energy, Micro-bits, among other projects.
Mathematics and Physics teachers/tutors making 3D Printing activity

Story by
NTIRANDEKURA Schadrac
Public Relations and Community Engagement Officer
University of Rwanda-College of Education