University of Rwanda- College of Education in collaboration with Rwanda Basic Education Board have embarked on a serious plan to improve teachers' English proficiency. The efforts are supported by the Rwanda's Quality Basic Education Human Capital Development ( QBEHCD) project, English Sub-Component 1.1 with the objective to improve teachers' English language proficiency and digital literacy through e-learning.
After a methodological training of Master Trainers organized at UR- Rwamagana Campus from September 16 to 19, 2021, it was the round of the training of the School-Based Mentors (SBMs) in English proficiency which took place from September 26 to 30, 2021 on 13 sites countrywide.
The training aimed to equip the SBMs with required capacity and knowledge which would enable them to conduct similar training for their fellow teachers of upper primary. During the 5-day's training, the SBMs conducted different micro-teaching activities based on the Module 1 for Beginner Level 1. The material has been elaborated with a focus on the setting of everyday life, a fact that has facilitated the trainees to develop their speaking, listening, reading and writing skills. At the end of each activity, participants took a moment to share their observations on how the lesson has been conducted highlighting the strengths and areas for improvement.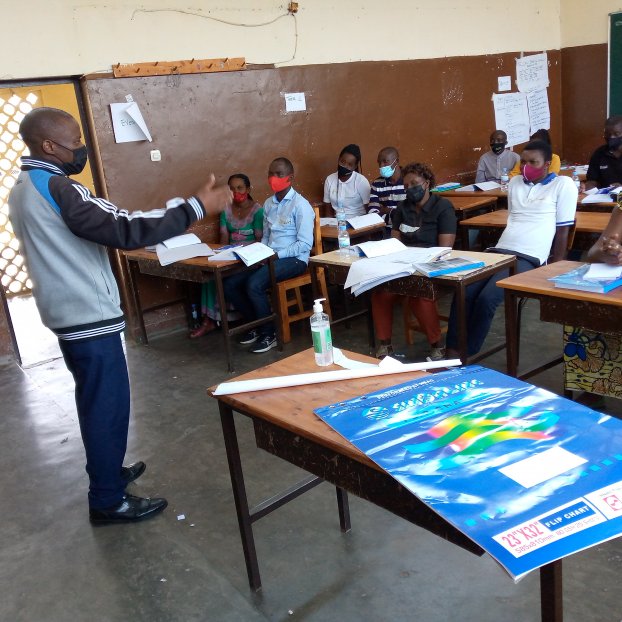 A class of SBMs at the site of College du Christ-Roi, Nyanza
On the occasion of his visit to Kagarama Secondary School site on 30 September 2021, the Director General of Rwanda Basic Education Board, Dr. Nelson Mbarushimana, was welcomed by Dr. Epimaque Niyibizi, who is a Senior Lecturer at UR-CE and Team Leader of English Component 1.1. He made a tour of the classrooms to eyewitness how the activity was carried out. Trainees who spoke to him on behalf of their colleagues noted that they got an important training package which will enable them to train upper primary teachers as planned.
A classroom of SBMs at the site of GS Kabgayi- B, Muhanga District
We have liked the way the training was facilitated, because it allowed us to improve our speaking, listening, reading and writing without going far from our every life context. We therefore go back equipped with tools and skills which will enable us to teach in English more effectively than we had been doing and we are ready to train our fellow teachers too,'' one trainee said.
Dr. Nelson Mbarushimana, the D.G-REB while visiting SBMs in class at the site of Kagarama Secondary School, Kicukiro District
In his closing remarks, the Director General reiterated the crucial role teachers play in transforming the lives of the students. He therefore called on them to behave as decently as possible, because their personality has a great influence on the learners' attitude. He also reminded that English is the language of instruction and stressed that the Government of Rwanda has invested a lot in teachers' capacity building. He therefore invited teachers to respond actively to the call for their training due to take place in the forthcoming days in their respective districts.
"English is the language of instruction. When a teacher is not teaching well in English this affects the academic performance. That is why the Ministry of Education through REB with its development partners and with UR-CE, are doing our best so that we can organize this kind of training so that you can be empowered, having knowledge as far as English is concerned,'' he said. "You know that our national target at national level to have a 21st century teacher who is able to teach in English but also to have skills as far as technology is concerned,'' he added.
Dr. Nelson Mbarushimana addressing the participants at the training closing ceremony
The implementation plan of the English sub-component 1.1 necessitated the development of nine (9) modules. Six (6) are modules of English proficiency (from beginner level to intermediate level) and three (3) are methodology modules : (i) Methodologies for Teaching English as a Subject ; (ii) Methodologies for Using English as Medium of Instruction for Sciences, Mathematics, and ICT Subjects ; and (iii) Methodologies for Using English as a Medium of Instruction for Arts, Humanities and Social Subjects. To watch a related video, open :https://www.youtube.com/watch?v=oz0RKFTb_oM
Story by
NTIRANDEKURA Schadrac
Public Relations and Community Engagement Officer
University of Rwanda-College of Education